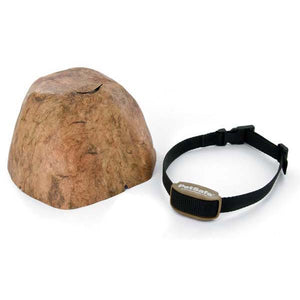 PetSafe Pawz Away Outdoor Pet Barrier
729849119239
The Barrier Transmitter, disguised as a rock in your landscape, sends a circular radio signal to your pet's Receiver Collar. When your pet enters the Barrier Area, he'll hear audible tones from the Receiver Collar followed by a safe, progressive static correction. The correction is delivered through the Contact Points of the collar that touch his neck. He'll quickly associate the correction with the area you've declared off-limits. Add an unlimited number of Extra Outdoor Pet Barriers and Extra Receiver Collars to fit your needs.
For outdoor use only. Add an unlimited number of pets with additional collars. Progressive Static Correction- Starts at the lowest level and increases to maximum in 3 seconds.
System includes: Waterproof Barrier Transmitter (4 Alkaline D batteries required, not included), Waterproof Receiver Collar with two 3-volt lithium batteries, Operating and Training Guide and Test Light Tool.
Compatible with: Pawz Away Extra Indoor/Outdoor Collar (RFA-377, PWF00-13664). Pawz Away Indoor Pet Barrier (ZND-1200). Pawz Away Mini Pet Barrier (PWF00-13665). Pawz Away Threshold Pet Barrier (PWF00-14406). YardMax Rechargeable In-Ground Fence (PIG00-11115).
---
We Also Recommend