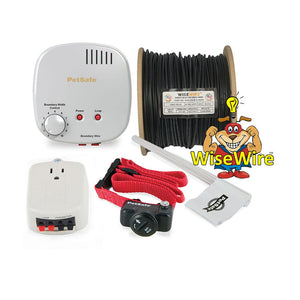 PetSafe Premium Basic Fence System 18 gauge WiseWire®
713382309127
Basic In-Ground Fence keeps your pet safely contained and secure in your yard. Install the system in about a weekend by setting up the transmitter and burying wires around your yard. The fence covers up to 5 acres with additional wire and flags. You'll place flags around your yard and train your pet where his new yard boundaries are in fun, quick training sessions over the next 2 weeks.
Most pets learn their new boundaries quickly. If your pet gets too close to the yard edge, the waterproof receiver collar reminds your pet with a warning beep, followed by a safe, gentle static correction if he continues. Run Through Prevention- Correction increases if your dog tries to run through the boundary zone. Add an unlimited number of pets by purchasing an extra collar for each pet.
WiseWire® 18 AWG PE30 is a heavy duty, high-strength, flexible, copper-clad steel wire. A custom grade steel core, metallurgically bonded with a copper cladding, that is uniform and continuous, creating a bi-metal conductor that acts as one and is corrosion resistant. Special annealing and drawing processes are performed during the cladding process to achieve desired engineered benefits of strength, flexibility, reliability and durability.
Insulation is a 30 mil, high-density, high molecular weight polyethylene (HMWPE/HDPE).WiseWireinsulation is engineered to provide superior water blocking and abrasion properties against underground elements and helps prevent accidental breaks caused by rocks in shifting soil conditions, dig-ins, and corrosion.
System includes: Transmitter with power adaptor, Receiver collar with RFA-67 battery, Short and long contact points for short-haired and long-haired pets, 50 boundary training flags, 500 feet of WiseWire®, Surge protector, Test light tool, Wire nuts, Waterproof gel-filled wire splice capsules, and Product manual.
---
We Also Recommend