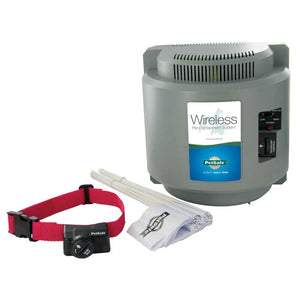 PetSafe Wireless Dog Fence Gray
729849106284
Trusted and true, PetSafe's original Wireless Pet Containment System keeps pets happier while you breathe easier. A simple signal from a small unit in your home to your dog's collar is all it takes. They learn their new yard boundaries quickly and comfortably, and the collar will remind them with a tone or static correction if they forget.
Before you know it, it's all happy playing and no random straying. Covering an area up to ½ acre, it's portable, requires no buried wires, and sets up in 1-2 hours. Spend less time fussing over installation and more time playing with your pup!
Short training sessions will have your pets aware of their limits quickly. Plus, PetSafe's waterproof collars offer 5 levels of static correction (and a tone-only mode) for customized reinforcement based on your dog's temperament. And for trips, the unit is easily portable – just plug it into an outlet! Cover a maximum of 180 feet in diameter or 90 feet in radius, with a minimum of 10 feet in diameter or 5 feet in radius. Plus, you can combine it with additional transmitters to expand your pet's play area.
System includes: Wireless transmitter with power adapter, Receiver collar with RFA-67D battery, Long contact points for long-haired dogs, Test light tool, Operating and training guide and 50 boundary training flags. Item does not work with mobile homes, structures with metal siding or structures with metal roofs.
---
We Also Recommend