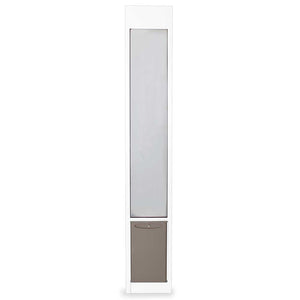 PetSafe Freedom Patio Panel Large White 13.375" x 76.8125" - 81"
729849131293
When your pet enters through the sliding glass doors, he feels like a big shot. The panel can be installed in the left or right door, and it has an UltraSeal energy-conserving flexible flap system to reduce energy loss.
Features: Heavy-duty aluminum construction. Shatter-resistant, tempered safety glass. Latch lock assembly enables sliding glass door to lock. UltraSeal all-weather, energy-conserving flexible flap system reduces energy loss. Depth: 0.75". Replacement Flap: PAC11-11039. For pets up to 100 lbs..