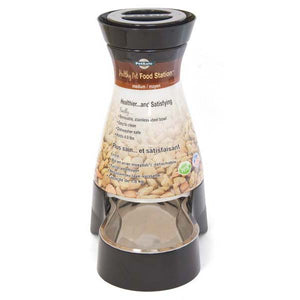 PetSafe Healthy Pet Food Station 4 lbs Medium White / Black 13.79" x 11.6" x 7.669"
729849118591
The PetSafe Healthy Pet Food Station will revolutionize your pet's food and your home environment. Your pet gets fresh food, whenever she needs it, served in a stainless steel bowl. This is the first gravity feed system with a removable stainless steel bowl, which is the #1 material veterinarians recommend for health and cleanliness.
The hopper is made of BPA Free (Bisphenol A) durable plastic. It locks in place to prevent knock over and spills. You'll love the wide openings which make refilling and cleaning by hand or with a cleaning tool easier. The Healthy Pet Food Station is also dishwasher safe, making clean up a snap. The Healthy Pet Food Station complements most home décor. With its space-saving footprint and modern style, it is ideal for kitchens, laundry rooms, garages and other indoor areas. Discover a healthier way for your pet to enjoy fresh, free flowing food.
---
We Also Recommend