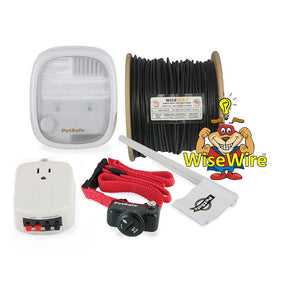 PetSafe In-Ground Fence 18 gauge WiseWire®
713382308922
What a wonderful feeling to give her the freedom to enjoy the yard, without worrying about escape or harm with PetSafe's In-Ground Fence! A waterproof Deluxe UltraLight receiver collar and buried perimeter wire combine with a small, sleek transmitter to let your precious pet know she should stay in the yard.
The collar features 4 adjustable levels of static correction plus tone-only mode for training to help you find the right level for your pet. Additional built-in safety features help keep your pet safe in your yard. You'll feel confident knowing that your pet is playing safely in your yard. PetSafe's fence is perfect for owners who want to give their dog exercise and playtime in the yard without worrying about their safety.
Here's how it works. You'll set the boundary by burying wires around the perimeter of your yard. Your dog wears a collar that picks up the signal from the transmitter. As your dog nears the boundary wires, a beep alerts your dog, giving them a chance to stop without any correction. For those that continue, a safe static correction reminds them to stay in the area you've established. Simply adjust the correction level if your dog continues to test the boundaries. Additional safety features help keep her in your yard more than before. Anti-Linger Prevention keeps your pet from staying in the Warning Zone for long periods of time and draining the battery. Progressive Run Through Prevention works by increasing the correction if your pet tries to quickly run through the boundary zone.
WiseWire® 18 AWG PE30 is a heavy duty, high-strength, flexible, copper-clad steel wire. A custom grade steel core, metallurgically bonded with a copper cladding, that is uniform and continuous, creating a bi-metal conductor that acts as one and is corrosion resistant. Special annealing and drawing processes are performed during the cladding process to achieve desired engineered benefits of strength, flexibility, reliability and durability.
Insulation is a 30 mil, high-density, high molecular weight polyethylene (HMWPE/HDPE). WiseWire insulation is engineered to provide superior water blocking and abrasion properties against underground elements and helps prevent accidental breaks caused by rocks in shifting soil conditions, dig-ins, and corrosion.
System includes: Transmitter with power adapter and mounting bracket, Receiver collar with RFA-67 battery, Surge protector, 50 boundary training flags, 500 feet of WiseWire®, Wire nuts, Gel-filled capsules, Test light tool, and Operating and training guide.
---
We Also Recommend