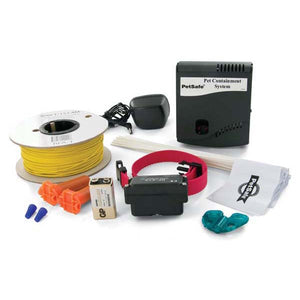 PetSafe In-Ground Stubborn Dog Fence 16 gauge wire Red
713382308236
Persistent pooch? Hard-headed or hard of hearing? Now you can still keep them playing safely in the yard and nowhere else. With 4 higher-intensity settings than PetSafe's other collars, even dogs that are difficult to train respond well to the Stubborn Dog In-Ground Fence system. The safe, gentle static correction works so effectively that most dogs learn to stop in their tracks at the warning beep that precedes the correction. The vibration option is ideal for hearing-impaired dogs, or as an alternative to static correction.
Some dogs were born to test limits. But the Stubborn Dog In-Ground Fence system sets firm boundaries that you'll quickly train them to understand. Here's how it works. You'll set the boundary by burying wires around the perimeter of your yard. Your dog wears a collar that picks up the signal from the transmitter. As your dog nears the boundary wires, a beep alerts your dog, giving them a chance to stop without any correction. For those that continue, a safe static correction reminds them to stay in the area you've established. Simply adjust the correction level if your dog continues to test the boundaries. After about 2 weeks of training, even the most stubborn dogs can start enjoying their new yard freedom!
And for hearing-impaired or senior dogs who simply can't detect the beep, there's a special vibration mode. Your furry friends will certainly thank you for the extra help in keeping them safe!
System includes: Transmitter with power adapter, Receiver collar with 9-volt alkaline battery, Surge protector, 50 boundary training flags, 500 feet of 16-gauge boundary wire, Wire nuts, Gel-filled capsules, Test light tool, Operating and training guide.
---
We Also Recommend