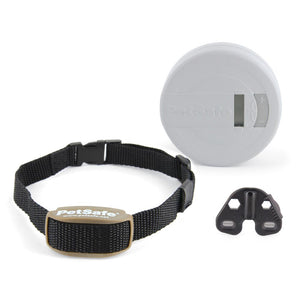 PetSafe Pawz Away Mini Pet Barrier
729849136656
The Pawz Away Mini Pet Barrier creates avoidance areas up to 5 feet in diameter. It teaches your pets to avoid areas inside the home and outside in the yard. The transmitter sends an elliptical radio signal adjustable up to five feet. Your pet wears a Receiver Collar with Contact Points that touch his neck. When your pet enters the Barrier Area, he'll hear a series of beeps from the collar and he will feel a safe, static correction which is designed to startle instead of punish. The Mini Pet Barrier will keep your pet off kitchen counters, away from the trash, and off your furniture to protect your pet and your home. Add an unlimited number of pets with additional collars. For indoor or outdoor use.
System Includes: Barrier transmitter (3 alkaline AAA batteries required, not included), Receiver collar with two 3-volt lithium batteries, Operating and training guide, Cat collar strap and Test light tool.
Compatible with: Pawz Away Extra Indoor/Outdoor Collar (RFA-377, PWF00-13664), Pawz Away Indoor Pet Barrier (ZND-1200), Pawz Away Outdoor Pet Barrier (PWF00-11923), Pawz Away Threshold Pet Barrier (PWF00-14406), and YardMax Rechargeable In-Ground Fence (PIG00-11115).
---
We Also Recommend