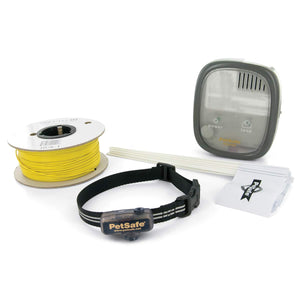 PetSafe Premium Little Dog In-Ground Fence 18 Gauge Wire
603827613653
Little dogs rejoice! We've catered Elite Little Dog In-Ground Fence for your petite pal's safety. It starts with PetSafe's smallest waterproof receiver collar, specially designed for greater comfort. The reflective strip on the collar helps you find your small dog at night, so outside playtime doesn't have to end when the sun goes down!
To set up the system, you'll establish the yard boundaries with underground wiring. Training your best furry friend to stay within those boundaries is a snap. No more straying. No more worrying. Just big freedom for those little paws. Little dogs love to play in the yard just as much as big dogs, and now they can!
Here's how it works. The collar picks up a signal from a transmitter as your dog nears the boundary wires you bury in your yard. A beep alerts your dog and most dogs do so well with training that they stop right then! For those that continue, a harmless static correction reminds them to stay in the area you've established.
Formerly called the Deluxe Little Dog In-Ground Fence, this system is packed with PetSafe's most advanced features. A low-battery indicator light, surge protection for the transmitter, wiring for up to 1/3 acre (can be expanded), and multiple correction levels – it all adds up to a huge value for your little friend and you.
System includes: Transmitter with power adapter, Receiver collar with RFA-188 battery, Test light tool, Operating and training guide, 50 boundary training flags, 500 feet of wire, Wire nuts, G Gel-filled capsules, and Mounting bracket.
---
We Also Recommend