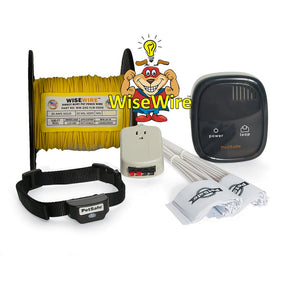 PetSafe Rechargeable Fence System 20 gauge WiseWire®
713382309035
The Rechargeable In-Ground Fence is the convenient containment system that lets you keep your pet safe in your yard without having to regularly replace collar batteries. Charge your pet's receiver collar when the battery's low and away he goes to enjoy his new yard freedom. Add as many pets as you like with additional compatible collars. 4 adjustable levels of static correction plus tone-only mode for training lets you find just the right level for your pet.
The fence installs in about a weekend with some basic DIY skills. You'll bury wires in your yard to set a custom pet area up to 25 acres with additional wire and flags. The Transmitter sends a radio signal through the boundary wire to your pet's collar. If your pet approaches the boundary, he'll hear a warning beep to remind him to stay in the yard. If he continues through the boundary, he'll feel a safe, gentle static correction from the collar to keep him in the yard. After about 2 weeks of training, your pet will quickly learn the areas he is free to enjoy.
WiseWire® 20 AWG PE20 is a heavy duty, extra high-strength, copper-clad steel wire. A custom grade steel core, metallurgically bonded with a copper cladding, that is uniform and continuous, creating a bi-metal conductor that acts as one and is corrosion resistant. Special annealing and drawing processes are performed during the cladding process to achieve desired engineered benefits of unmatched strength, reliability and durability.
Insulation is a 20 mil, high-density, high molecular weight polyethylene (HMWPE/HDPE).WiseWireinsulation is engineered to provide superior water blocking and abrasion properties against underground elements and helps prevent accidental breaks caused by rocks in shifting soil conditions, dig-ins, and corrosion.
System includes: Transmitter with Power Adapter, Rechargeable, Waterproof Receiver Collar, Receiver Charger - Two Plug, Surge Protector, 500 Feet of WiseWire®, 50 Training Flags, Short and long Contact Points for short or long-haired pets, Waterproof Splice Capsules and Wire Nuts (2 each), Test Light Tool and Operating and Training Guide.
---
We Also Recommend