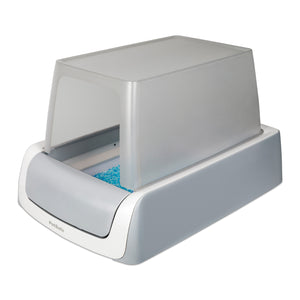 PetSafe ScoopFree Ultra Second Generation Self-Cleaning Cat Litter Box Gray 27.6" x 19.1" x 16"
729849168060
It is the only self-cleaning litter box that uses disposable litter trays to provide hands-off convenience and unbeatable odor control. ScoopFree Ultra offers 1 additional features for the ultimate in cat care: a privacy hood. You don't have to see, touch, or smell messy waste. Disposable litter tray has plastic lining that creates a barrier to help protect against leakage. Sensors automatically reset the 20-minute rake timer if your cat re-enters the litter box. Rigorously tested in PetSafe's lab for more than 100,000 cycles without failure or jamming. Anti-tracking carpet sold separately. Recommended litter tray replacements: At least once every 20-30 days for one cat, every 10-15 days for 2 cats, every 7-10 days for 3 cats.
Product Specs: Includes UL-rated 120V 60Hz adaptor. Operates on a standard wall outlet. For indoor use only. extra-long 10 foot power cord. Self-cleaning litter box measures 19" wide by 27-3/8" long by 7" high. Height is 16-3/4" with optional hood installed. Litter tray measures 14-1/2" wide by 22" long by 2-1/2" high.
Never add litter to your ScoopFree self-cleaning litter box or use another brand or type of litter. The Premium Blue crystal litter in the disposable litter tray is formulated especially for ScoopFree.
Kittens less than 6 months old may experience a shortened litter tray life span. Kittens may also have softer stool than mature cats, which increases the likelihood that it may stick to the rake. Cats who consume a diet high in crude fiber, ash and byproducts may experience a shortened litter tray life span. Cats over 10 years and cats with health problems may also experience a shortened tray life.
Includes: Litter box frame, Privacy cover, Litter tray, Original scent blue crystal litter bag and power adapter"
---
We Also Recommend