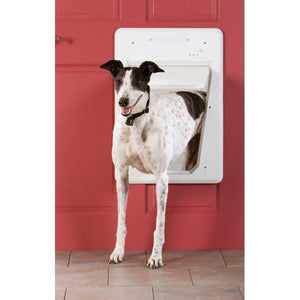 PetSafe SmartDoor Dog Door Large White 16.125" x 23.625"
729849107090
Using radio-frequency technology, the SmartDoor reads the unique signal of a SmartKey worn on your pet's collar and triggers the battery power-driven flap to unlock. When the SmartDoor no longer senses your pet's SmartKey, the flap automatically locks back into place.
The SmartDoor can detect up to five programmed SmartKeys and also operates in two other modes: fully locked mode and unlocked mode. Locked mode does not allow entry or exit for any pet and unlocked mode allows entry and exit for all pets.
Features: 3 programmable modes: Automatic, Locked and Unlocked. Now includes one programmed SmartKey and battery. Easily program up to 5 SmartKeys with a touch of a button. Energy efficient, insulated flap with UV sun protection. Uses 4 D-cell batteries, not included. Low battery indicator. How to Prepare, Install, Set and Operate with helpful tips included in Operation Guide.
---
We Also Recommend