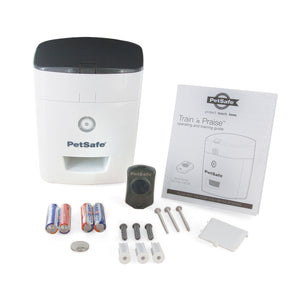 PetSafe Train N' Praise Treat Dispenser White
729849140165
Teach your pet remotely with treats. Use it to keep your pet away from the door when a visitor arrives, to reward your pet for not barking, and for many other training purposes. The treat dispenser can be mounted to a wall or free standing, has a low battery indicator, and is AC adapter compatible.
How to Teach Your Dog Better Behavior. Redirect your pet's bad behavior with a command for the behavior you want. The treat dispenser lets you reward your dog for good behavior and easily teach new commands with the power of positive reinforcement.
Training Tips: Train 1 dog at a time. Teach your pet 1 new behavior in 10-minute sessions every day for a few weeks. Train when your dog is hungry. Hand feed your dog until he's comfortable with the dispenser. If your dog tries to bite or paw at the dispenser, change his focus to you. When he stops and gives you good behavior, give a treat from the dispenser.
System Includes: Treat dispenser, Remote transmitter, 4 AA batteries, 1 3-volt lithium battery (CR2032), Mounting hardware, and Product manual.
---
We Also Recommend