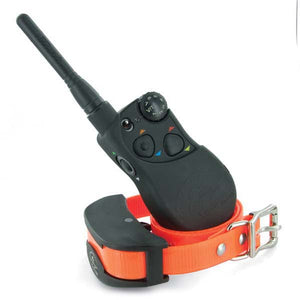 SportDOG Hound Hunter Remote Trainer Black / Orange
729849126510
The HoundHunter 3225 is specifically designed for controlling tracking and trailing dogs, so you can keep the thrill of the chase within your control. With a range of up to 2 miles, keeping control of a long-range pursuit is easier than ever. The model SD-3225 allows control of up to six dogs. The compact transmitter features color coded indicators that correspond to available collar strap colors.
It is the ideal trainer for hunters who pursue bears, bobcats, mountain lions, and raccoons with multiple dogs. Includes 7 modes of operation along with a choice of stim/vibration or stim/tone for up to 6 dogs at a time. Up to 21 levels of stimulation (7 each at low, medium, and high setting).
Contents: Receive transmitter, collar receiver, lanyard, belt clip, long contact points, operating guide, basic training manual and DVD, charging adaptor and test light.
---
We Also Recommend