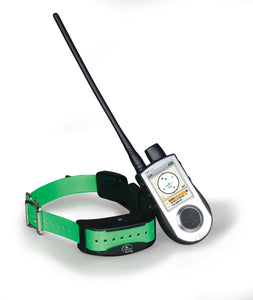 SportDOG Tek Series 1.5 GPS Tracking System
729849160644
By using our HopTek technology, the Collar Receiver reports the location, direction, and status of up to 12 dogs in a 7-mile range, all viewable on the Handheld Device's LCD screen. Whether you're running hounds, beagles, or bird dogs, the TEK-V1.5L allows you to track with confidence.
Handheld Device: Lightweight, compact design. Adjust the scale from 100 yards to 75 miles or set the scale to auto. Store up to 20 way points. Backlit LCD screen. Integral, tilt-compensated compass.
GPS Collar: TEK Series 2.0 technology, Compact design, GPS functionality, Reports each dog's status: stopped (on point or treed) or direction of movement.
Contents: Handheld Device, GPS Collar with on 1" Green Collar Strap, Charging Adaptor, Charging Cradle, Lanyard, Quick Start Guide, and Basic Training Manual and DVD.
---
We Also Recommend