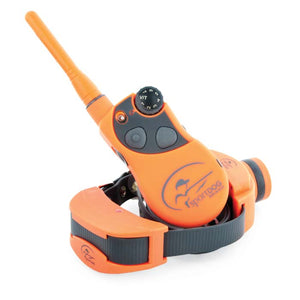 SportDOG UplandHunter 1 Mile Remote/Beeper Orange
729849130661
From the big, wide open of the prairie to the thick tangles of the northern alder swamps, the UplandHunter 1875 lets you keep tabs on hard-running pointing dogs. This is the pinnacle of SportDOG Brand efficiency. A situation-programmable transmitter controls a compact, waterproof Collar Receiver and at the same time remotely operates a rugged, waterproof, audible beeper. With a 1 mile range and 3-dog expandability, control and flexibility are always at your fingertips.
Beeper options: High Volume Beep, High Volume Hawk, Double High Beep, Bob White Quail Call, High Falling to Low Beep, Triple Beep, Double High Falling to Low Beep, Low Volume Beep and Low Volume Hawk.
Contents: Receive transmitter, collar receiver, beeper, extra collar strap, lanyard, belt clip, long contact points, operating guide, basic training manual and DVD, beeper charging cradle connector, charging adaptor and test light.
---
We Also Recommend