News — sarasota pet store
Posted by Tricia Bolds on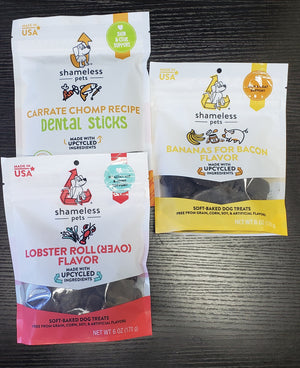 What is upcycled ingredients?  Well, that's a great question and many people may not realize that food waste is quickly becoming a global issue.  The United States discards more than 63 million tons of food waste each year.  Upcycling takes the items that may have been thrown away, discarded or not used to send to grocery and then uses those items as ingredients to make new, healthier products. The process of food waste happens at every step along the way from harvesting, post harvesting, processing, distribution and consumption.   That's where shameless pets developed their idea and the company was formed. 
Posted by Tricia Bolds on

Adding goat's milk to your dogs diet, even in small amounts, could greatly improve immune function and overall health.
Our pets bodies are made of 65% moisture and unlike humans rely on on the majority of their water to come from the foods they eat. Most people feed a kibble which is only about 20% bio-availability for the day. This means only 20 - 40% of the nutrition can be absorbed into your dogs body. <READ MORE>